Fostering 2SLGBTQ+ inclusion in the workplace
Building psychological safety across the organization through inclusive language, education and allyship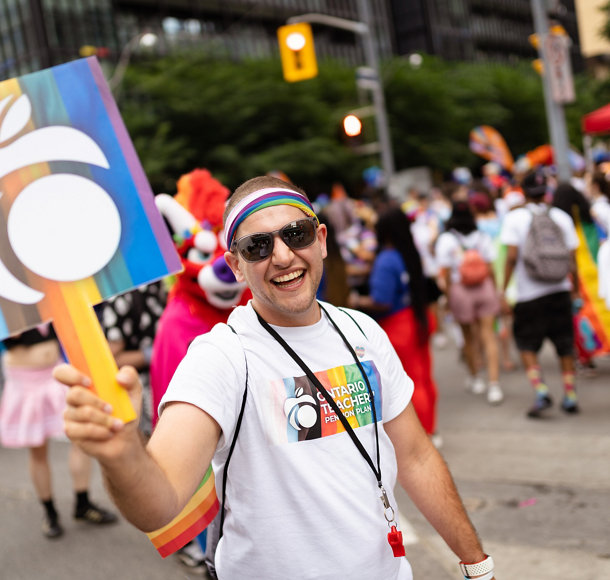 What makes a workplace inclusive? For Ontario Teachers', it's when employees are comfortable bringing their true selves to work and have confidence in knowing they have the same opportunities as everyone else.
"At Ontario Teachers' there is a genuine and authentic desire to create the best work environment to drive performance and ensure employee wellbeing," said Nick Jansa, Senior Managing Director, EMEA. "We believe it's the right thing to do and have been focusing our efforts on building and fostering an inclusive workplace long before it became the corporate expectation."
However, this is not something that happens overnight, but rather a continuous process. Below, learn about some of the key steps taken by Ontario Teachers' on our journey towards building a more inclusive workplace.
Words matter: Introducing an Inclusive Language Guide
Using appropriate, respectful language is an important part of our commitment to inclusivity. Recently, Ontario Teachers' released an Inclusive Language Guide to provide employees with tips around gender, race and ethnicity, Indigeneity, 2SLGBTQ+ identities and Persons with Disabilities. The Guide is meant to help avoid biases and discrimination and to ensure people are respected, accepted, and affirmed.  
As an example, the guide says to avoid the term "sexual preference" in favour of "sexual orientation," because preference implies choice.  Ontario Teachers' also reminds employees that language is constantly evolving and what might be the best choice of word to use now, might not be the best in the future.
"Supporting and celebrating our 2SLGBTQ+ and ally community is critically important to us at Ontario Teachers'," said Beth Tyndall, Chief People Officer. "This is why we are focused on building a psychologically safe environment where all our people can be their authentic selves."
Being an ally means stepping back and asking yourself, what are the little things that I could do to help make members of the Pride community feel safer and be seen? 
Kim Whetstone (she/her)
Senior Manager, Strategy Management, Enterprise Planning & Transformation
Allyship requires education — and action
"Educating employees is a critical first step towards achieving inclusivity within the organization," says Michael Cherny, Director of DEI and a proud trans man. "The second is engaging in active allyship," he adds. "What the 2SLGBTQ+ community needs now more than ever is active allyship in the form of acts of support – from something as simple as sharing your pronouns to showing up at Pride events and being an active listener and advocate of the community," who adds that these types of examples and more are included within an Allyship Toolkit Ontario Teachers' launched last year.
Ontario Teachers' recently held a panel discussion where 2SLGBTQ+ community members and allies from the organization shared personal stories as well as tangible ways for the audience to better support the community. Throughout the event, panelists discussed the challenges they faced coming out and the people and resources that were helpful during significant milestones in their journeys, as well as how critical of a component active allyship is to the community.
"Being an ally means stepping back and asking yourself, what are the little things that I could do to help make members of the Pride community feel safer and be seen?" Kim Whetstone, Senior Manager, Strategy Management, Enterprise Planning & Transformation told the audience during the discussion. "That can be as simple as taking a look at Ontario Teachers' Inclusive Language Guide, putting up signs or symbols that show your support such as a rainbow flag or pin, and proactively using your pronouns."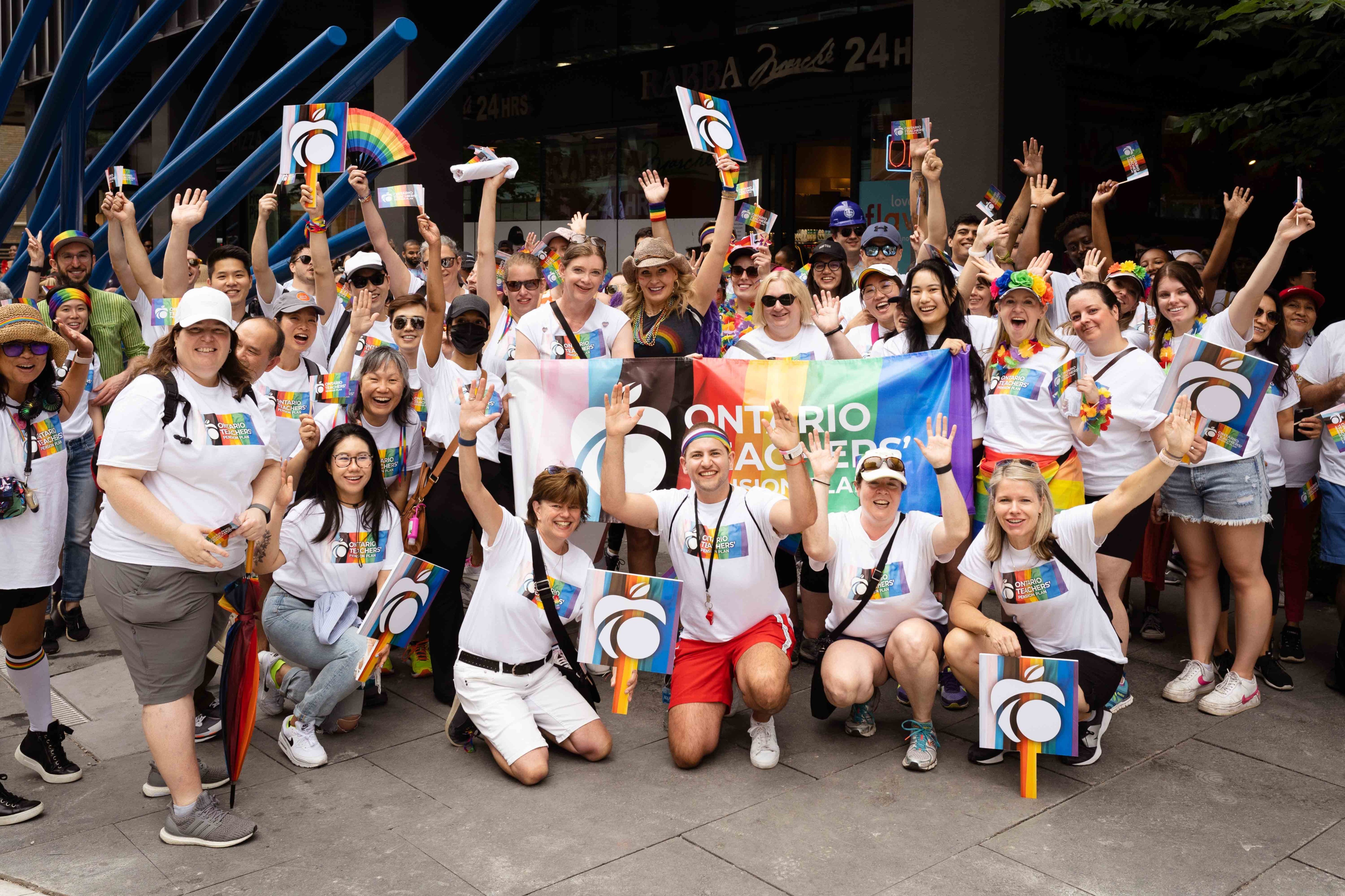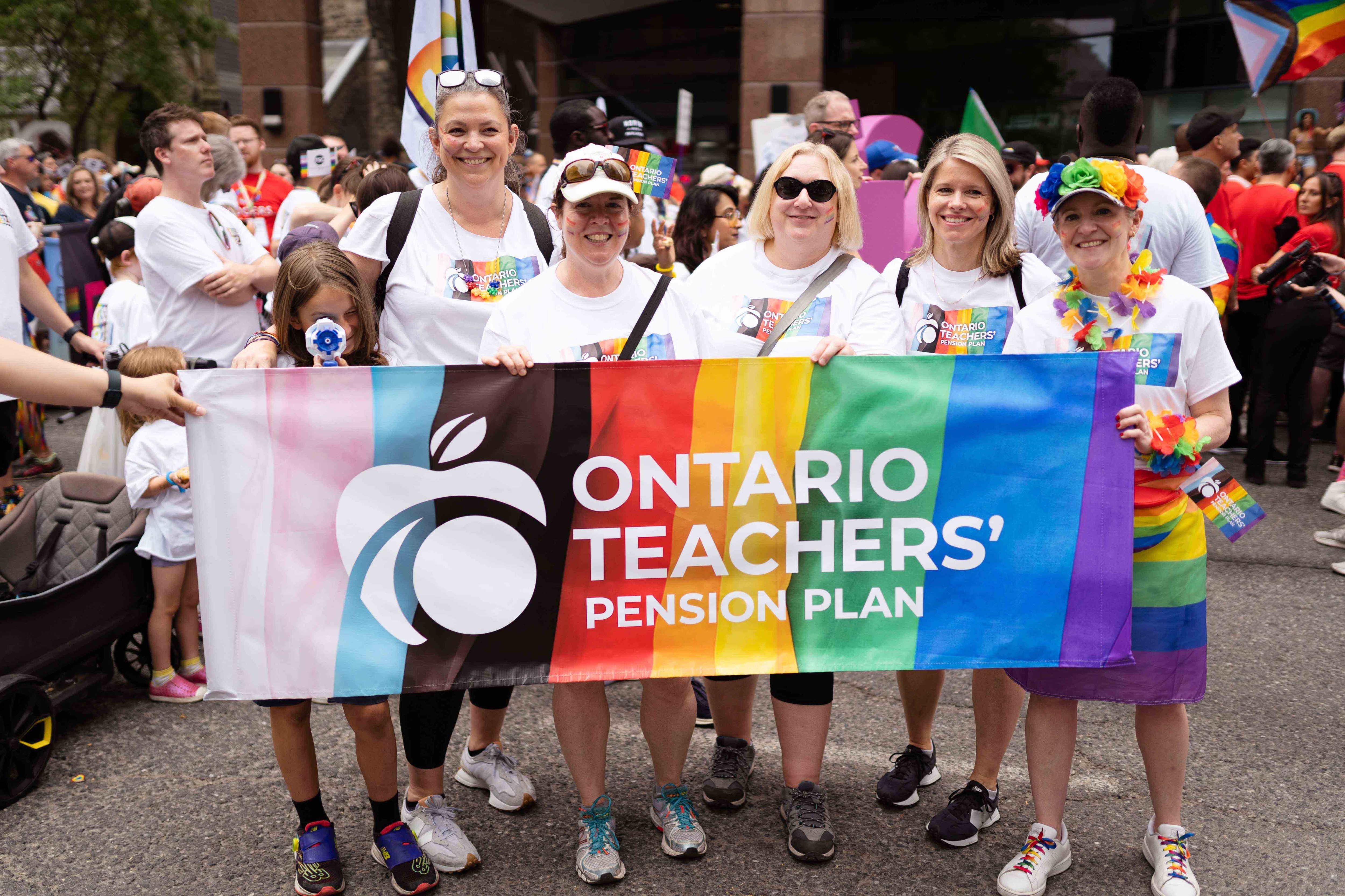 Ontario Teachers' walked in its first-ever Toronto Pride Parade on June 27, 2022. More than 300 employees and their friends and family plan to walk in this year's Toronto Pride Parade on June 25, 2023.
Fueling community and change within the organization through Employee Resource Groups (ERGs)
Another way Ontario Teachers' creates a sense of community is through ERGs, which are employee-led groups that build connection based on common shared characteristics/interests.
"In 2019 we put a large focus on DEI starting at the Senior Leadership level and in doing so I felt empowered to help launch our Pride ERG, and ultimately bring my whole self to work," said Anthony Di Fonzo, Senior Manager, Enterprise Planning & Transformation. "Since launching Pride@Teachers' the volunteer group has grown from 10 attendees at its initial meeting to over 300 community members and engaged allies."
Year round, our ERGs, including Pride@Teachers', do so much to advance DEI across the organization and ultimately bring employees closer to together —whether it's putting on events that celebrate cultural days of significance or taking the lead to create opportunities for dialogue and learning.
A continuous process
Ontario Teachers' has made significant strides in its DEI journey — from education on unconscious biases, implementing tactics to reduce barriers in the workplace and increasing our overall culture awareness. However, achieving inclusivity is an evolution and there is a need to continuously identify and break down barriers.
"In order to have a world class global brand that attracts and retains diverse talent, we must continue to think beyond gender," added Cherny. "We must also ensure our people come first and commit to progressing our social impact. Intentional and strategic focus on embedding DEI into our everyday action, programs and processes, as well as prioritizing DEI education are just a few ways we'll do this."