Expanding global real estate horizons
Breaking new real estate ground in Europe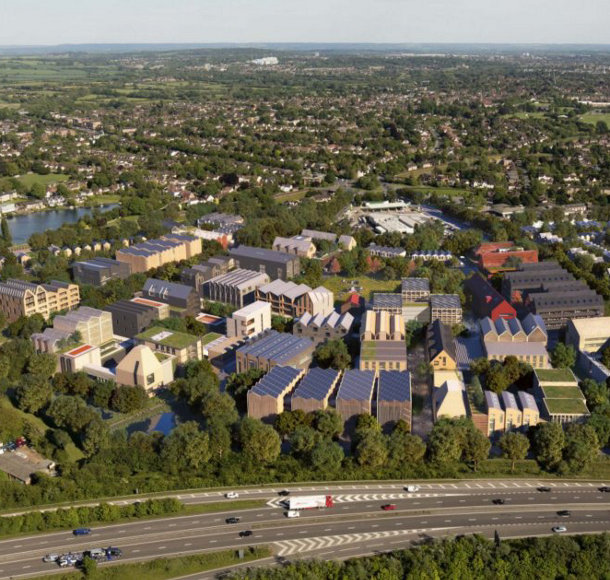 Cadillac Fairview (CF) is breaking new ground. It has committed approximately $4 billion of new capital to invest across Europe over the past 18 months as part of an ambitious international expansion plan. In Canada, CF may be best known for owning many of the country's top performing malls (including CF Toronto Eaton Centre) but its global property portfolio also encompasses life sciences, industrial, residential and logistics assets.
Recent European investments include the $1.1 billion Oxford North development, a life-sciences-led, mixed-use innovation district near the renowned university. The project, a joint venture with CF's U.K. partner Stanhope PLC and St John's College of the University of Oxford, will offer 1 million square feet of state-of-the-art laboratory and working space alongside infrastructure like roads, retail amenities, housing, park space and a hotel.
In a post-pandemic world, this diverse portfolio across sectors will support future growth for CF, as will the company's continued ability to take advantage of the long-term macroeconomic trends that are shaping the changing demands of real estate.
Growing across Europe
CF and Stanhope have also acquired a 110,000 sq ft trio of properties and 10,197 sq ft of office space at 163 Cambridge Science Park, which occupies a prominent location on the eastern side of the park. Other recent acquisitions include two industrial parks in Park Royal, West London U.K. and in the Port of Rotterdam, Netherlands, as a joint venture with pan-European investment management firm Boreal IM.
Committed
4
of new capital to invest across Europe over the past 18 months
Cadillac Fairview is on an exciting growth path, diversifying its portfolio by asset class and outside of Canada and a key component of our strategy is to partner with leading, best-in-class companies that share our values and commitment to long-term success.
Jenny Hammarlund
Managing Director, Head of Europe Cadillac Fairview