A conversation with Anna Murray
Our head of sustainable investing speaks about how our deeply rooted ESG practices shape where we've come from and where we're headed.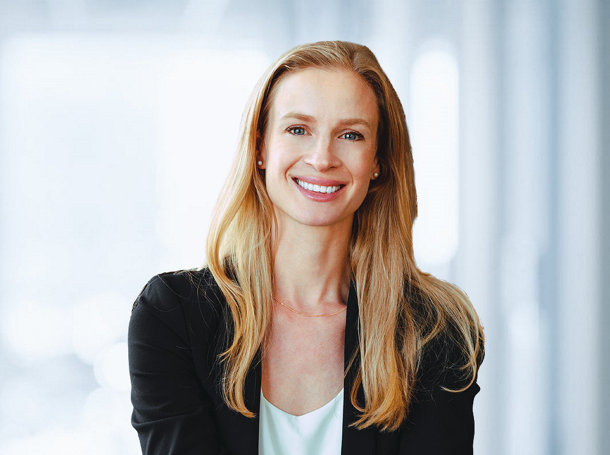 Why did you decide to join Ontario Teachers'?
Anna Murray: I was keen to join an organization where the commitment to making a real-world impact is embedded into the cultural fabric. Ontario Teachers' has a strong commitment to embedding ESG practices that spans two decades, and it continues to demonstrate leadership and influence in the industry today. As an active and engaged investor, there's a firm belief at Ontario Teachers' that the organization can play a role in addressing some of today's biggest environmental and social challenges and opportunities as we look to ESG considerations to help us deliver on our pension promise to members.
Ontario Teachers' has been an ESG leader in the industry for more than 20 years. Why do you think that is?
AM: Ontario Teachers' has been a trailblazer in the industry, taking a lead-by-example approach to advancing corporate governance and responsible investing practices. Our early work focused on progressing practices in corporate governance, such as adding transparency to how we vote our shares and being an influential thought leader in the space.
Over the years, our approach evolved as we applied our approach to investing responsibly. In 2010, we developed guidelines for managing climate change and became a signatory to the internationally recognized Principles for Responsible Investing. We later launched a Low Carbon Economy Transition Framework to build a common language around the energy transition.
We've made public commitments to be net zero by 2050 and strengthened our proxy voting guidelines for climate oversight, set interim portfolio carbon footprint reduction targets and targets for our portfolio companies to establish decarbonization plans. We continue to take an active stance on embedding ESG considerations across the investment lifecycle. In the last three years, the Sustainable Investing team was involved in and reviewed an average of over 80 potential and realized transactions valued at more than $35 billion annually across asset classes.
Most recently, through our annual review of our proxy voting guidelines, we reinforced existing focus areas for publicly traded companies such as Diversity, Equity and Inclusion (DEI) and set higher expectations for increased participation of women in board roles. Along our journey, we have developed substantial climate-related expertise and have worked to make our portfolio companies greener and more resilient. We remain committed to being on top of trends and research in the space and seek opportunities to use our capital and influence to make a long-lasting positive impact as we deliver value.
"Ontario Teachers' has been a trailblazer in the industry, taking a lead-by-example approach to advancing our corporate governance and responsible investing practices."
What were our biggest wins in 2022?
AM: Some of our key achievements last year include:
Announced an ambitious plan to invest in decarbonizing high emitters to accelerate the net-zero transition and we plan to have an initial allocation of around $5 billion for these assets and will be providing separate reporting and measurement to reflect our progress;
Added $3 billion in new green assets to our portfolio including Mahindra Susten (a renewable energy business in India), Corio Generation (a global offshore wind development platform), SSEN Transmission (an electricity transmission company in Scotland) and a second investment with NextEra Energy (a portfolio of high-quality renewable energy assets);
Established proxy voting guidelines that advocate for large public companies to seek to increase their board gender diversity to a minimum 40% representation of directors identifying as women, up from prior expectations of 30%.
Voted on nearly 280 shareholder proposals about ESG topics that drive accountability; and
Through our wholly owned subsidiary Ontario Teachers' Finance Trust (OTFT), issued a $1 billion green bond, OTFT's third green bond issuance, and the first in Canadian dollars.
How does our purpose support a culture of sustainability?
AM: Our purpose is to invest to shape a better future. Our mission is to deliver retirement security for our members. This is what guides us as a global investor: as we work to generate returns and help ensure plan sustainability, we take an active role in creating real-world impact. Our purpose informs the way we think, act and do business, and is embedded into all facets and levels of our organization and its culture. Supported by our core strategies of Culture, Growth, and Impact our teams look to create a lasting, positive impact on the world. We believe this goes hand in hand with delivering the investment returns needed to keep pensions sustainable over the long term.
What's next for sustainable investing at Ontario Teachers'?
AM: Building from our position of strength, we will continue to stay ahead of emerging ESG topics, trends, risks and opportunities. We will advance our multi-faceted approach to climate change, through actively working with our portfolio companies on decarbonization strategies, investing in green and transition assets, issuing green bonds, and evolving our proxy voting guidelines. We believe that expanding our positive impact through playing a role in addressing some of the world's pressing environmental and social challenges supports our ability to create long-term value and deliver on our pension promise. As such, we are formalizing our approach to pursuing the positive impact we can have through our business activities.